A Bruce Lee Store EXCLUSIVE!
As part of a series of demonstrations that displayed his immense speed, power and skill, Bruce Lee debuted his one-inch punch in 1964 at the Long Beach International Karate Championships. This event would foreshadow the rise of Bruce Lee to stardom. In 1967 at this same event, Bruce Lee was "discovered" by a hair stylist to the stars who was in attendance and marveled at the charisma Bruce Lee displayed.
This t-shirt pays homage to the punch that Bruce Lee made famous.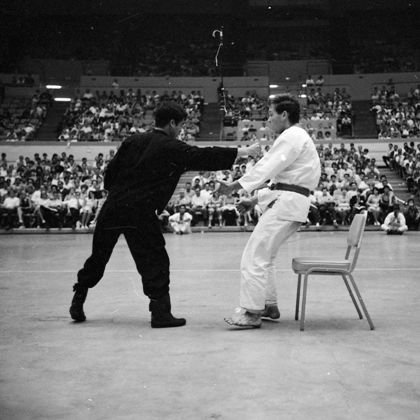 In the photo, you see that the recipient of Bruce Lee's one-inch punch is literally lifted off the ground.
**A portion of the proceeds from all merchandise purchased in the Bruce Lee Official Store benefits The Bruce Lee Foundation.
Customer Reviews
Post Review
Currently, there are no reviews available.